Bridging the gap
With higher competition, you need to make your checkout more efficient. Lower your entry barrier and bridge the gap between current and new members by digitalising your payments.
How can Waytobill help your membership organisation?
Go big. Go monthly
Change your annual plans to monthly subscriptions in one simple click:
Lower your entry barrier and boost your conversion.
Avoid unexpected churn rate and improve your retention.
Modernise your payments and sign your members directly on Digital Autogiro.
Digitalise your memberships. Use Digital Autogiro
Digitalise your memberships and improve your conversion rate with Sweden's most used payment method. With Digital Autogiro you can lower the barrier for your members effortlessly. Avoid any involuntary churn rate and erase all administrative fuzz.
On top of that, you can still use invoice or card payments simultaneously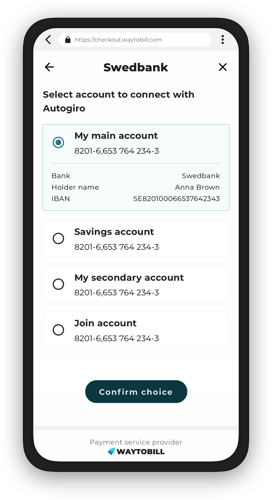 All channels in the palm of your hand
Find new members wherever they are. Thanks to Waytobill you can attract new members to your organisation in every possible channel.
Sign them directly on the call with our telesales checkout.


Be available 24/7 with our webpage checkout.


Adapt to anything with our payment link (Social Media, Email, physical channels, etc).