Bridging the gap for organisations
In such a competitive market, making your checkout efficient is more important than ever. By lowering the entry barriers and digitalising your payments you get to sign more members and bridge the gap between current and new members.
Partners that support membership organisations



How Waytobill helps membership organisations
Go big. Go monthly
Change your membership organisations' annual plans to monthly subscriptions in one simple click:
Lower your entry barrier and boost your conversion.
Avoid unexpected churn rates and improve retention rates.
Modernise your payments and sign your members directly on Digital Autogiro.
Digitalise your memberships. Use Digital Autogiro
Digitalise your memberships and improve conversion rates with Sweden's most popular payment method. With Digital Autogiro you can register members to monthly subscriptions, avoiding any involuntary churn rate and therefore improving retention rates.
On top of that, you can still use invoice or card payments simultaneously.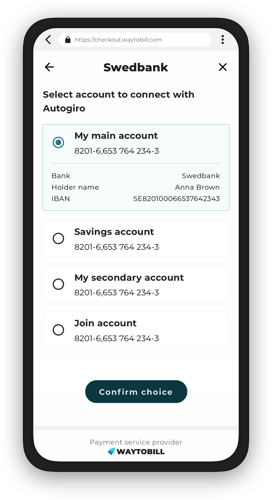 All sales channels within your reach
Find new members wherever they are. With Waytobill you can attract new members through all sales channels.
Sign prospects directly on the call or right after with our efficient telesales checkout.


Embed our online checkout on your website and convert members 24/7.


Our sharable payment link will help you convert new members on social media, via email, field sales, etc.
Modernise your checkout for subscriptions
Take control and digitalise your payments. Your effortless checkout journey awaits.